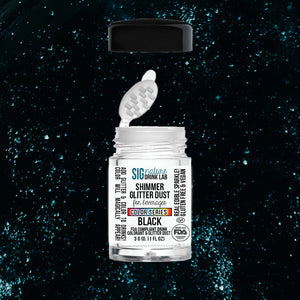 This Black FDA compliant glitter dust that can be sprinkled into any beverage for that shimmery, glittery effect. Our Color Series Shimmer Glitter Dust™ adds color dye to your drinks and sparkle with a swirling, shimmery effect to the presentation of soda, beer, cocktails and other beverages. Sprinkle in beer, water, juice, tea, coffee, spirits and more per FDA Code requirements for a fun wow factor to your drinks.
SIGNATURE DRINK LAB MANUFACTURES THEIR PRODUCT INSIDE THE USA, IS REGISTERED WITH THE FDA AND KOSHER CERTIFIED.
Black Color Series Shimmer Glitter Dust is Food Grade, Uses Artificial Colorant and is Kosher Certified. We use ONLY FDA Compliant Ingredients. Ingredients: Mica-Based Pearlescent Pigments, Titanium Dioxide & Blue 1.

Made in USA in an FDA Inspected Food Manufacturing Facility. Please contact us for larger quantities 1lb. up to 500 lbs+

Suggested Usage Rates:
• 0.5-1.5 g/L

Add to bright beer after filtration and roused or mixed with CO2
It's recommended to trial different dosage rates in samples to determine optimal addition rate.
Regulatory Information (FDA USA):
Shimmer Glitter Dust© is in compliance with FDA-listing as color additives exempt from batch to batch certification: 21 CFR Part 73: section §73.350 titanium dioxide coated mica-based pearlescent pigments:
(ii) In amounts up to 0.07 percent, by weight, in the following:
(A) Distilled spirits containing not less than 18 percent and not more than 23 percent alcohol by volume but not including distilled spirits mixtures containing more than 5 percent wine on proof gallon basis.
(B) Cordials, liqueurs, flavored alcoholic malt beverages, wine coolers, and cocktails.
(C) Non-alcoholic cocktail mixes and mixers, such as margarita mix, Bloody Mary mix, and daiquiri mix, but excluding eggnog, tonic water, and beverages that are typically consumed without added alcohol (e.g. fruit juices, fruit juice drinks, and soft drinks).