Edible Wow Factor for Your Drinks
Adding food safe edible glitter to your drinks is easy at Signature Drink Lab™! You can add our Shimmer Glitter Dust™ to water, juice, coffee, wine, soda, beer, cocktails, mocktails, lemonade and more! Hot or cold, it doesn't matter.
We are the #1 Manufacturer of drinkable wow factor! Our Shimmer Glitter™ for beverages is popular among breweries, coffee shops, wineries and venues looking for food grade glitter from a name they can trust to deliver. We operate out of a FDA INSPECTED FOOD MANUFACTURING FACILITY in addition we have our products KOSHER CERTIFIED.
We have done all the research, finding ONLY flavors, food grade glitter, sprinkles and image printing that meets FDA requirements for human consumption. Looking for something custom? Just send us an email and we will get back with you!
Shimmer Glitter Dust™ is available in 18 Different Colors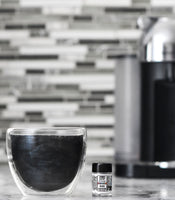 Black Color Reveal Series Shimmer Glitter Dust for Drinks
Black Shimmer Glitter Dust for Spooky Halloween Potions!
See More