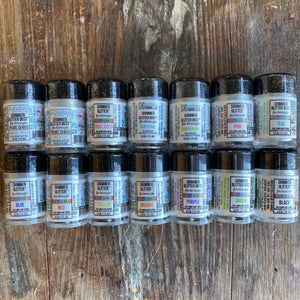 Have every color of Shimmer GLitter Dust™ Drink Glitter with this Full Set from Signature Drink Lab! Shimmer Glitter Dust for Beverages is a food-grade, kosher certified glitter to be added to any drink. Use in beer, coffee, sparking drinks, juice, mixers, cocktails & more per FDA Code 21 CFR Part 73.
A $197 VALUE, DISCOUNTED OVER 20% FOR THE SET!
You Get ALL 18 Sprinklers of 3 Grams Each as follows:
Color Series Adds Color & Silver Sparkle of Red, Yellow, Blue, Purple, Orange, Green, Black, Teal, Pink & Navy Blue
Color Gold Series Adds Color & Gold Sparkle of Liquid Gold, Rose Gold, Fire Gold & Ocean Gold
Original Adds Silver Sparkle
Gold Pearl Adds Gold Sparkle
Blue Pearl Adds Light Blue Hue of Sparkle
Green Pearl Adds Light Green Hue of Sparkle
See www.ShimmerGlitterDust.com for amounts / usage information.
Signature Drink Lab operates out of an inspected food facility. All products are Kosher Certified.